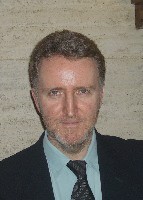 Professeur invité par le département d'études cognitives et le département de philosophie à partir du 17/11/05 : 3 séances (cf calendrier site DEC)
Professor Barry C. Smith from the School of Philosophy at Birkbeck has been appointed as Director of the Institute from September 1 2008. His main work is in the philosophy of language and mind ; he is particularly interested in knowledge of language and its relation to other aspects of the mind. He has also published on the emotions, the perception of taste and on self-knowledge. His homepage is here.

http://www.philosophy.sas.ac.uk/bcs...